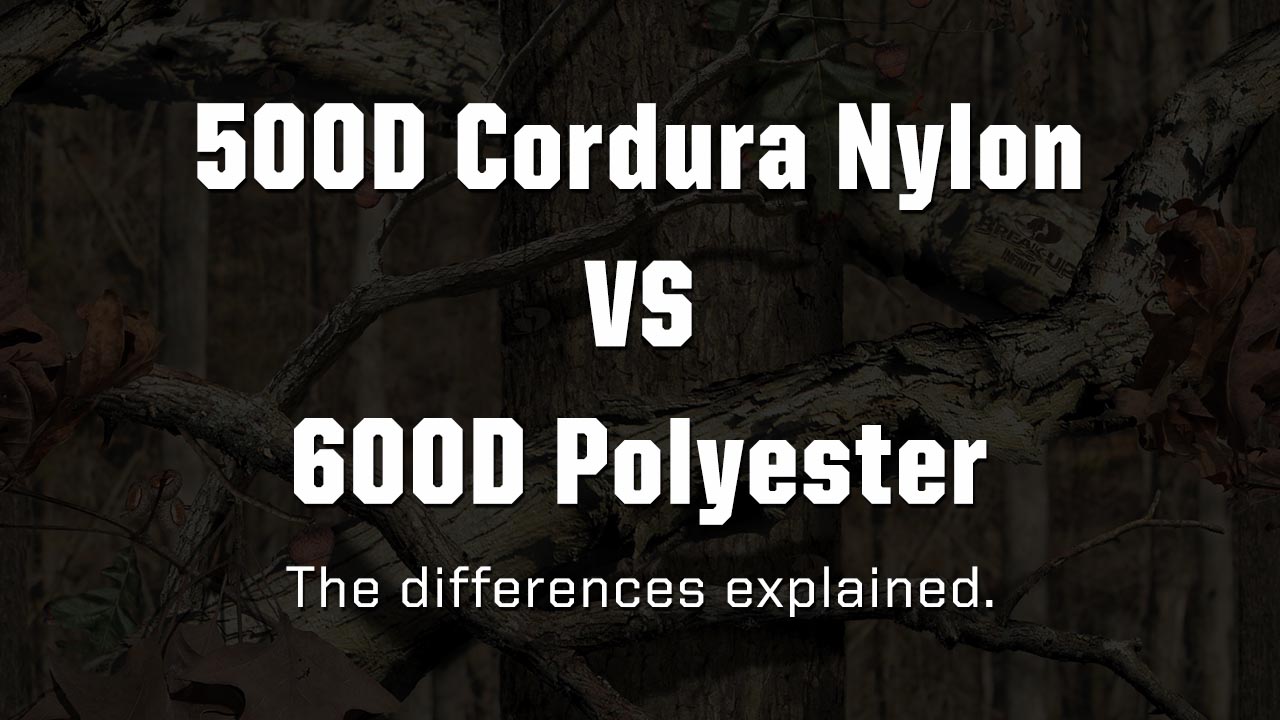 We have received many questions regarding the differences between 500D Cordura Nylon and 600D Polyester. I have put together a diagram and some supporting information to help better explain the differences between these two fantastic fabrics. Both the 500D Nylon and the 600D Polyester fabrics are great performers for hunting & outdoor projects. Hopefully the diagram below helps explain the differences.
Fabric Strength
The Cordura name is synonymous with ruggedness and strength so it scores a 5 out of 5 in our scale. Nylon is typically a stronger fiber than polyester and the 500D Nylon is no exception. However, the 600D Poly Oxford fabric is a very versatile as well. This fabric weighs nearly the same as the 500D Cordura Nylon and is used for rugged, durable products ranging from backpacks, camping chairs and hunting blinds. When fabric strength is important, our 500D Cordura Nylon is definitely stronger than the 600D Poly but they are both good choices for a strong solution.
Print Colorfastness
The 500D Cordura® Nylon scores better here due to the fact it is pigment printed instead of transfer printed. It might not look as nice, but it will definitely do better against the sun's UV rays than the transfer printed poly will. 600D Poly Oxford is transfer printed and tends to fade faster in direct sunlight.
Print Quality
As mentioned above, the 600D polyester fabric utilizes transfer printing that achieves stunning detail and image quality. Together with the smooth print surface of the polyester, it produces an almost photographic image. This earns it a full 2 point advantage over the 500D nylon. The pigment printed nylon looks great – but the textured surface of the nylon fabric along with the pigment printing tend to give it more rugged and less defined print lines.
Water Repellency
Both fabrics come equipped with DWR (Durable Water Repellency) and PU coating on the back. This is the industry standard for waterproofing outdoor fabrics. The 500D Cordura scores slightly higher because of it receiving a 2 pass PU coating (thicker) where the 600D polyester receives a 1 pass. When it's all said and done, this doesn't make a whole lot of difference, but we have to give a slight edge to the 500D Cordura Nylon here.
Check out our Waterproof Test
Cleanability
Both fabrics are 100% synthetic and have DWR treatment. This makes them both resistant to mold and mildew while allowing them to shed any water-based mess like a true champion. However, as mentioned above, the polyester has a slicker surface than the textured, rugged feel of the nylon. This scores the 600D Polyester a 5 out of 5 on our scale for its ease of cleaning – just dampen a cloth… wipe and go!
Burlap is awful in comparison. These fabrics are perfect for hunting blinds.
Affordability
With all the bells and whistles that come with these fabrics, it comes as no surprise they are towards the higher end of our fabric pricing range. They're going to run a little more than, say, cotton t-shirt fabric. However, the old adage "you get what you pay for" applies here as much as anywhere. These fabrics are constructed to take abuse. They will last longer and perform outdoors brilliantly. The 500D Cordura Nylon, with the extra strength characteristics, costs about 25% more than the 600D polyester.
Shadowblock / Concealment
The 600D Poly and 500D Cordura Nylon are both tightly woven and built similarly. We're giving the edge here to the 500D Cordura because it's a little bulkier, thicker and has the extra PU coating on it. Plus, the back of the nylon fabric tends to have a little bit of the camo print "bleed through" where the back of the 600D Poly fabric is just plain white. One exception to this – the 600D Poly | Shadowblock Backing- Mossy Oak Break-up Country – 60″ has a shadowblocking black PU coating. This is the ultimate fabric to hide you and to keep your shadows hidden on a sunny morning.