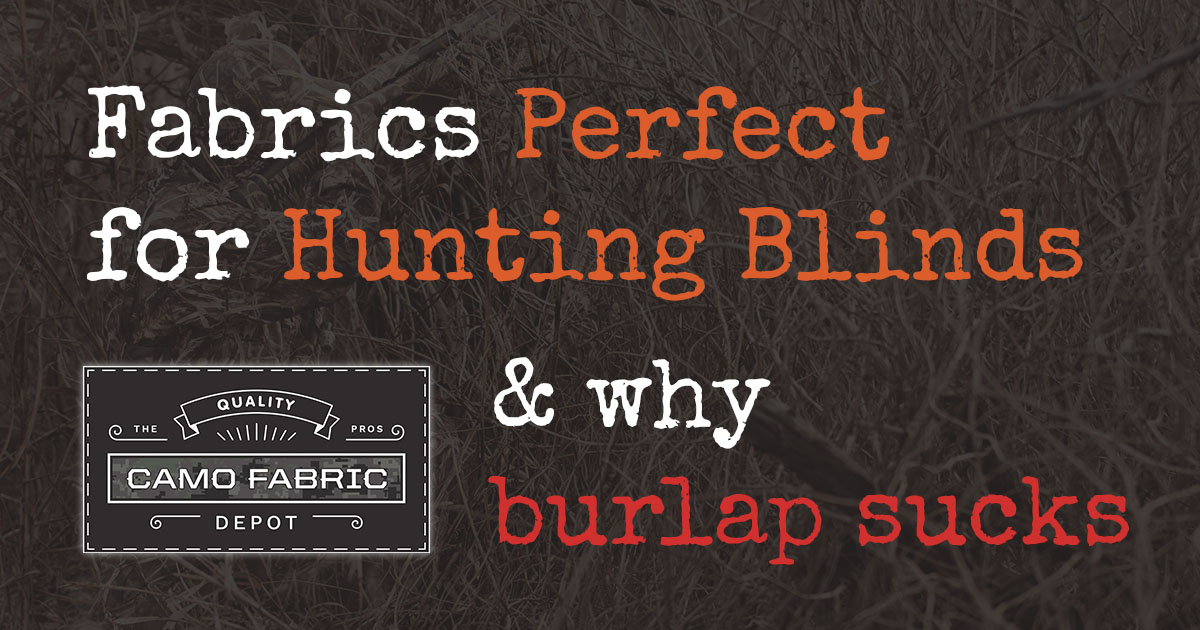 When you can't find the right blind for your hunting needs you need to create your own. Depending on how sophisticated your blind design is you may only need quality fabric and a few stakes. A lot of people like to use burlap and that's all well and good if you can deal with these burlap drawbacks. We recommend using 500D Cordura Nylon or 600D Poly Oxford. If you are in search of the perfect hunting blind fabric you have come to the right place.
Burlap is a Bad Choice for Hunting Blinds
Burlap stinks
From the start burlap smells musty. After exposing the fabric to the outdoors the smell gets more pungent and produces mildew.
Burlap is hard to clean
You can't just throw burlap into the washing machine and expect to get the same fabric back. Burlap thrown into a washing machine has the potential to distort severely. It can be cleaned and the odor might be able to be removed with "gentle" care. But as a hunter.. Who has time for that?
Burlap doesn't print well
Burlap is a very coarse, organic fabric. With the rough, inconsistent texture getting a quality camo pattern print is next to impossible. When purchasing my favorite pattern on fabric I like to see vibrant colors that are consistent with the rest of my hunting gear.
Burlap deteriorates and decomposes
Since burlap is organic it will start to decompose and deteriorate once exposed to the elements. This will cause the fabric to stink, fall apart and lose print details
Burlap is not a waterproof or water resistant fabric
This is a no-brainer. Burlap is a loosely woven fabric which in no way can repel water.
If you are like me and have experienced any of these burlap shortcomings you will know that what I speak is true. Luckily there is a better, longer lasting hunting blind fabric available that is easy to clean and water resistant.
Recommended Fabrics for Hunting Blinds
500D Cordura Nylon
A durable fabric with high abrasion resistance, 500D Cordura Nylon is perfect for outdoor usage and hunting gear items.  This fabric uses textured nylon 6,6 yarns for a rugged feel and comes with a 2 pass polyurethane coating making it water repellent.  This fabric is perfect for hunting blinds and can also be used for gear bags, backpacks, seat covers and much more.  Basically, if you want a fabric that will perform well, can be used and abused, then this is the fabric you want.
600D Poly Oxford
This is a more economical alternative to the 500D Cordura Nylon. This fabric has a smoother finish and is another fabric made for the great outdoors. It has a polyurethane coating and water repellent finish, making it weather-resistant and easy to clean. This fabric is a great hunting blind fabric and is also suitable for bags, backpacks, seat covers, gun cases and more.