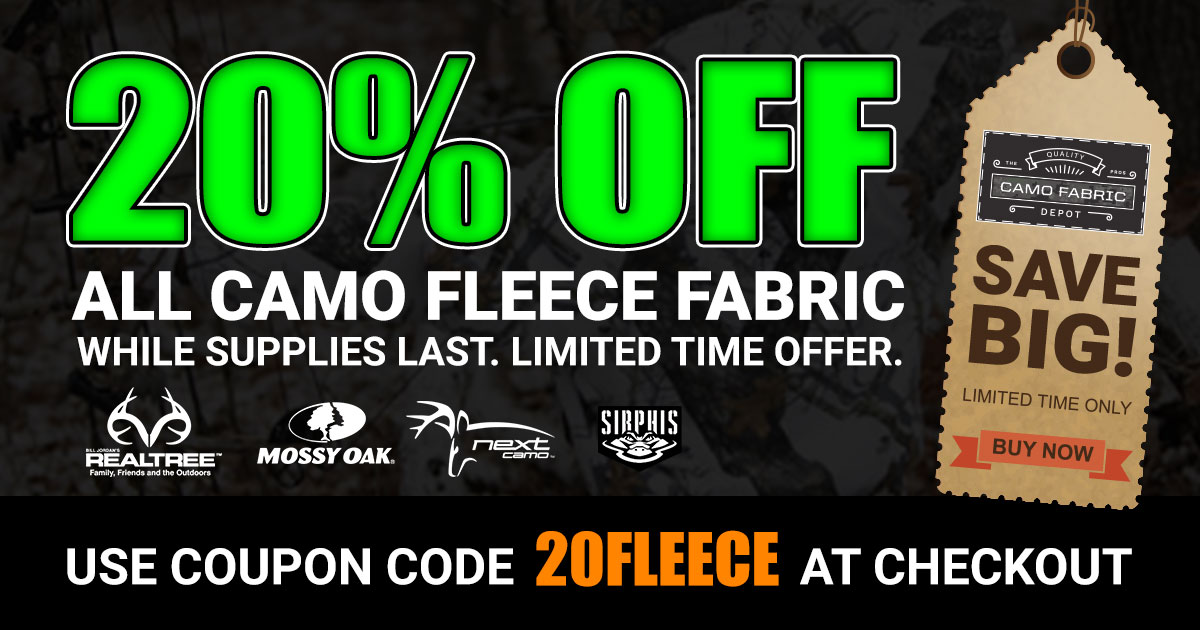 This is the best camouflage fleece fabric that money can buy and it is on sale now!
See available camouflage fleece fabric below.
I am not a cold weather person and the thought of being cold creates a bit of anxiety that I would rather not deal with. So as the winter months approach, I look for ways to make sure that I am prepared to battle the bitter coldness looming in the not-so-distant future. That's where our camouflage fleece fabric comes in.
If I can do it you can.
I have plans to make a few sweatshirts, hats and I have actually already started sewing a new camo blanket to throw in the basket next to the sofa. I actually made a new dog bed cover for my loyal companion Molly a while back and it is still being used to this day. If you want a warm, soft and fuzzy fabric, our polyester fleece is perfect and comes in many of your favorite camouflage patterns including Realtree®, Mossy Oak®, Next Camo®, Sirphis®, and more. Take my word for it, this is some of the best camouflage fleece fabric available today.
Don't miss this camo fleece fabric sale!
For a limited time, Camo Fabric Depot is offering the best camouflage fleece fabric money can buy at 20% off! If you are looking for the right fabric to create your next warm and cozy project, this camo fleece fabric is the perfect fit. This polyester fleece is a soft, fuzzy fabric that can be used for sweaters, sweatshirts, jackets, mittens, hats, blankets or any other applications where a soft, warm material is needed.
Here you will find the current camouflage fleece fabric available here at Camo Fabric Depot. I will be adding more as they become available. Don't miss out on this deal! Prices will go back up before you know it! Take advantage of this sale because it won't last long. We have a limited inventory so act fast! Buy fleece fabric today!