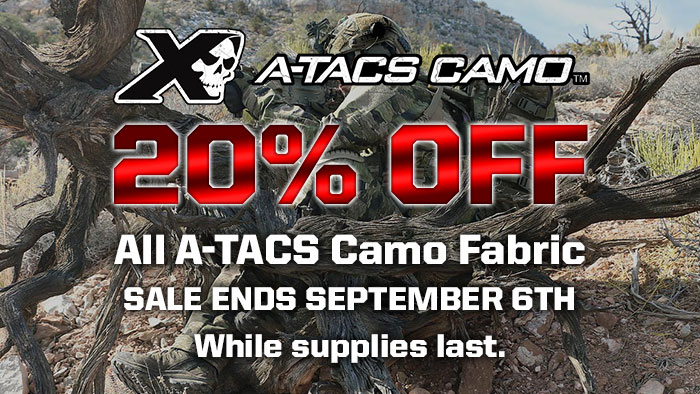 Now offering the complete A-TACS iX camo fabric pattern lineup!
WHILE SUPPLIES LAST! SALE ENDS SEPTEMBER 6TH! SHOP ALL AVAILABLE A-TACS FABRIC BELOW.
To celebrate the addition of the complete A-Tacs "X series" line to our fabric arsenal, we are offering a LIMITED TIME 20% discount on all of our A-Tacs® Camo brand fabrics. The "X" Line of concealment solutions was designed to afford the operator a comprehensive multi-environmental concealment solution designed to function in a wide range of terrain. The concept is centered around a new transitional pattern the incorporates an even mixture of green and earth tones designed to blend with a wide variety of terrain. The supporting patterns in the new line consist of new and enhanced versions of A-TACS AU and A-TACS FG-each pattern sharing common color with the other and a similar design to the intermediate pattern so that when paired together, the system will perform in virtually any environment worldwide. In effect, the operator can purchase one set of gear in the transitional pattern and simply change uniforms to meet mission and terrain objectives. The "X" Lineup is in short, one pattern with infinite adaptability.